Description
Via Gold LRL Scanner Field Scanning Device
One of the biggest features of the VIA GOLD LRL SCANNER System, the field scanning device, is that it has a very stylish digital display which can be attached to the waist which will provide you with great convenience in finding treasures that have lost visibility by virtue of the frequency waves emitted on the screen. VIAGOLD LRL SCANNER field scanning device is one of the best field scanning systems with its features and usage in catching its target in the fields with treasure marks belonging to civilizations, treasure marks made by Armenians and Greeks on rocks while hiding treasures and treasures. It provides the option to adjust according to the frequency modes you want from 01 to 9.9.
Field scanning device VIAGOLD LRL SCANNER can find Roman chamber rock tombs, Byzantine chamber and rock tombs, Tumulus tunnel entrances, closed wells and cellars around 100 meters and 200 meters with a 50% guarantee. You can easily utilize the field scanning device VIAGOLD LRL, to find buried treasures and underground chamber tombs with its single use apparatus. It is a system which should definitely be preferred for preliminary exploration and detection even in the most difficult weather conditions when you attach the quad antennas to find great treasures with the VIAGOLD System for area scanning.
Even those who will use a field scanning device for the first time will be able to use it very easily to find tombs, buried treasures, silver, bronze coins and statues built underground and in rocks. Field scanning device with screen has a very different working system in the field scanning devices you have known until now. Via gold LRL Scanner area scanning device has automatic gold, space, silver, metal discrimination mode.
PARTS OF THE VIAGOLD LRL SCANNER FIELD SCANNER.
1- Waist-mounted rechargeable screen frequency circuit box.
2- Specially mixed plated brass apparatus with single use chamber.
3- Two people mutual use special mixing apparatus.
4- 2 single use antennas with ball bearings for single use.
5- 4 antennas for mutual use by two people.
6- Interconnection cables.
7- The charger that charges the display box.
8- Special rimmed fabric coating Bag with sponge inside.
9- User's manual that writes the use of Via gold lrl.
10- Warranty certificate for 2-year provision of free parts and 8-year provision of parts warranty.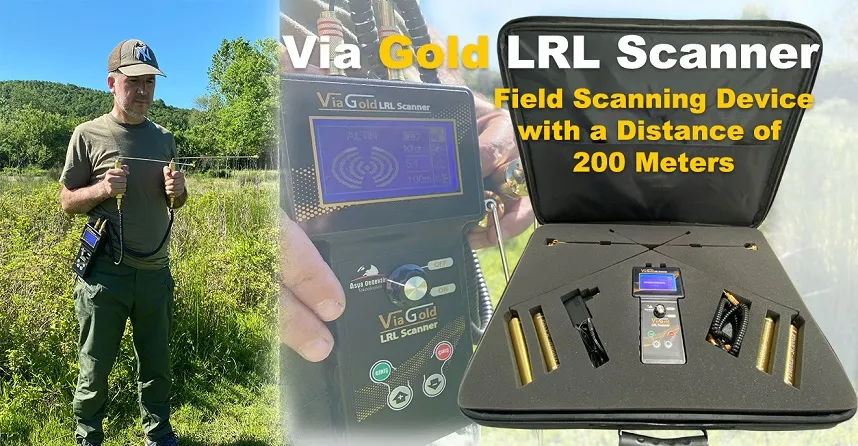 The field scanning device via gold LRL Scanner can detect big treasures underground, royal tombs, cellars, tunnel entrances with very little error, thanks to the special mixture formulas in the specially made conductivity holding apparatus. Thanks to its digital display, it is a complete hunter in catching its target without being affected by the minerals too much. For those looking for treasure and treasure, especially in mountainous regions, you can scan 200 meters away for preliminary exploration.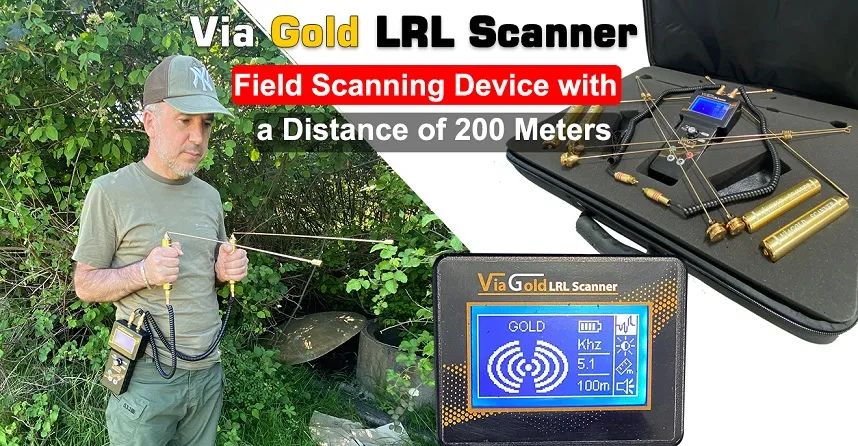 The field scanning device VIA GOLD LRL SCANNER provides the opportunity to search for the mineral you want by putting the material you want to find in its chamber, thanks to its special mixture in the handle grips and its feature of having chamber. You can watch field usage videos by subscribing to our Aziz Detector Technologies Center YouTube Channels or liking our facebook pages. If you want, you can call our sales offices in Turkey and get information about 6 different area scanning devices, 9 different underground imaging radars and approx. 60 best detector models from our customer representatives.